How to Find us
You can get in touch with Odense Bed & Breakfast by phone or email.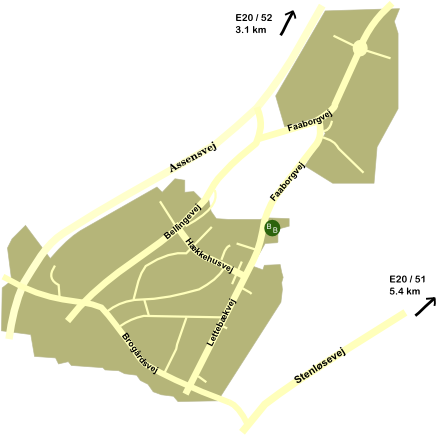 You find us at the following address:
Faaborgvej 434
5250 Odense SV
Denmark
post@odensebedandbreakfast.dk
Arriving by Bus
The 31 line stops at the corner of Hækkehusvej and Lettebækvej - about 350 meters from the B&B.
How far is it to...
Odense City: 8 km
Odense Zoo: 6 km
Dyrup: 1 km
Fangel: 4 km
Sankt Klements: 4 km
Sanderum: 4 km
Dalum: 5 km
Hjallese: 6 km
Højby: 10 km
Tommerup: 10 km
Assens: 32 km
Nyborg: 35 km
Odense Bed and Breakfast c/o Susanne og Tommy Raun
-
Odense
-
Funen
-
Denmark
-
Phone: +45 60 91 98 91